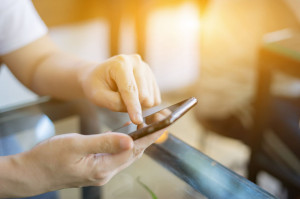 Would you be lost if your smart phone, laptop, or tablet went missing or was stolen?
Unfortunately, more thieves are targeting expensive personal mobile devices. Not only are these devices valuable, but a savvy hacker can access your personal information — email, bank accounts, online shopping transactions, and more — to steal your identity and your money.
That's why it's so important to prepare yourself so that if your mobile device ever goes missing, you're protected. Here are three ways you can do just that:
Back up all of your information regularly. Do you use a cloud service for file storage? If so, you may already have the advantage of an additional layer of protection because your data can be retrieved from the cloud if you lose your hardware. You can also back up your data on an external hard drive.
Protect your phone with a password. Make sure your phone requires a (strong) password to be able to use it.
Change your passwords periodically. This might seem obvious, but consider this: It's likely that your laptop, tablet, or phone automatically "remembers" your passwords and logs into your most-used accounts. Be sure to set strong passwords to limit theft damage, and use a different password for each account. If your device is lost or stolen, immediately change all of your account passwords.
Use tracking programs and software to keep track of your mobile devices. You can remotely track your electronic devices and, if they are stolen, obtain information that could help police recover them. There's also software that gives you the ability to lock and wipe your mobile phone remotely if stolen or lost.
Report the loss of your phone to your mobile carrier. Have you looked everywhere for your phone, but can't find it? Your carrier can suspend or disconnect service to your missing phone.
At 101 Financial, we love sharing information you can use. I provide educational classes that can help couples budget better, bank smarter, manage debt better and build strong credit. The 101 Financial system is a simple starting point for taking control of your finances. Get started today! Contact me to learn more: (503) 679-3490