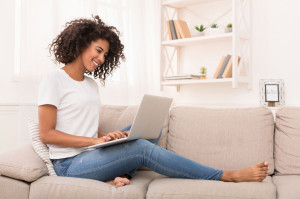 Identity theft is a fast-growing type of crime. But did you know that it's also the number one source of consumer complaints made to the Federal Trade Commission? It's actually been the number one complaint for nearly 20 years in a row!

Consumer protection officials say identity thieves look for the easiest targets first. The good news is that there are a number of simple steps you can take to avoid becoming a victim.
Don't carry your Social Security card in your wallet. Store it in a safe place at home instead. In fact, the less you carry in your wallet, the better. Do you really need to carry your checkbook around town?
Order a free credit report at least once each year. It's a simple preventive measure that can alert you to suspicious activity on your credit report. It's estimated that 25% of all credit reports contain some type of error or fraud, so you'll be able to identify those discrepancies and take steps to address them.
Check your credit card statements each month. Make it a habit to review your credit card statements each month, comparing all charges made to your card to your actual receipts. Watch for unauthorized transactions.
Use strong passwords with all online accounts. One of the best ways to prevent identity theft is to use hard-to-crack passwords to protect your personal data and financial accounts.
Be reluctant when asked to provide personal information. It seems like everyone is asking for your personal information these days. If you're asked for personal information, don't be afraid to question the request. Don't share information like your birthdate, Social Security number or bank account number just because someone asks for it. Avoid providing any personal or financial information verbally when other people are within earshot.
Take precautions when using public Wi-Fi. If you connect to a public Wi-Fi network, information you send could be accessed by others. Here's what you need to know to keep your information safe.
Collect mail every day. If you're going to be away from your home for a period of time, ask a trusted neighbor or friend to collect your mail, or place a hold.
Use a shredder. Shred anything with your personal information on it before it goes in the trash.
Consider a credit freeze. Credit freezes prevent someone from applying for and getting approval for a credit account or utility services in your name. You can freeze your records with Equifax, Experian, Innovis, TransUnion and the National Consumer Telecommunications and Utilities Exchange. There is no charge for securing your personal and financial records in this manner.
Use security features. On your phone and laptop, use all available security features and don't delay updates.