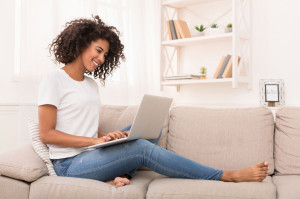 You've probably seen how low mortgage rates are right now. Are you wondering if refinancing is right for you? Refinancing can be an important step in your journey to becoming debt-free. But it's not for everyone. Here are situations in which you may want to consider it:
You have an ARM. When you purchased your home, you took out an adjustable-rate mortgage. But you plan on staying in your home over the long term and want the predictability of a low-rate fixed-rate home loan. Refinancing can help you accomplish that goal.
You have mortgage insurance (and want to get rid of it!). Generally, private mortgage insurance is required with a down payment of less than 20 percent. In some cases, though, if you have increased your home equity past the 20 percent mark, refinancing can help get you into a new loan without a monthly mortgage insurance premium. It all depends on your home value as determined by an appraisal and your outstanding mortgage balance.
Your current mortgage rate is higher than today's rates. One of the best reasons to refinance is to lower the interest rate on your existing loan and lower your monthly payment.
You can lower the term of your mortgage. If you have the opportunity to switch from a 30-year to a 15-year mortgage at the same or even a lower rate, refinancing could be a good option.
If you're thinking about refinancing, we can help you weigh the pros and cons, starting with a break-even analysis. A break-even analysis will give you an idea of how long it will take to recoup the costs of refinancing with the savings. A fairly short break-even period (under two years) supports the idea of refinancing.
There are other considerations, too, such as how many years you have left in your home loan. When you take out a mortgage, most of your payment in the early years of your loan goes towards interest. At the end of your loan, a much larger share of your payment goes toward principal. That means that if you're in year 20 to 25 of a 30-year mortgage, refinancing may not yield as much in terms of interest savings as if you were in year 5 or 10 of a 30-year mortgage.
Sometimes, it makes more sense to simply pay an extra amount with your mortgage payment each month to speed up the loan payoff process. And that's a great option, too! It all depends on your unique situation. I can help with all aspects of your family's financial health. The 101 Financial system offers proven methods for organizing your finances, establishing a monthly budget, increasing your monthly cash flow, understanding and increasing your credit score, paying down debt, becoming debt-free, and much more. Call me today to get started at (503) 679-3490.