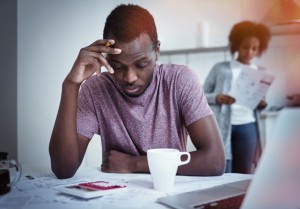 Most of us make mistakes at one time or another — and often, those mistakes are with money. Here are four common mistakes that can have far-reaching effects on your ability to have the financial peace of mind you've dreamed of.
Spending too much (and saving too little). In today's world, it's so easy to spend and so hard to save! Sometimes it's difficult for middle-income families to remember that it's not always how much you earn that determines your financial security, it's what you put aside. Increasing your income over time won't provide your family with financial peace of mind unless you are able to effectively manage your spending, create and stick to a monthly budget and save money.
Where you can, make savings automatic — automatically funnel money into your 401(k) from each paycheck and automatically transfer money each month from your checking account into a savings account. There's no shortage of examples of celebrities and sports stars who made millions but ended up broke because of lavish spending and no savings plan.
Having no emergency savings fund. If you have a philosophy of spending today and saving tomorrow, you may be very unhappy with your choices in the event of a major setback, such as a large medical bill or costly car repair. Everyone should have at least three to six months of living expenses in a savings account for the unexpected, including a job layoff. You'll be glad you did.
Taking on too much debt. American families are loaded down with a wide variety of debt. The average household, for example, carries credit card balances of nearly $7,000, owes nearly $28,000 in car loans, has nearly $47,000 in student loans and has a remaining balance of nearly $190,000 on their mortgage. Don't let debt dictate your future — the 101 Financial System is focused on helping you reduce and eventually eliminate debt, a life-changing move that can lead you and your family in exciting new directions.
Not getting the financial help you need. Working with a financial advisor can help you get back on track and help you view your money differently. With the right advice, you'll come to see money as a tool that helps you achieve your dreams. That's where I come in.
Through 101 Financial, I provide educational classes that can help individuals and families budget better, bank smarter, manage debt better and build strong credit. The 101 Financial system is a simple starting point for taking control of your finances — and your life. Get started today! Contact me to learn more: (503) 679-3490