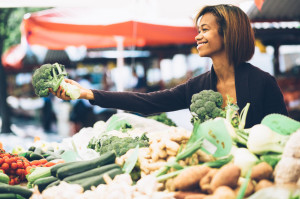 Americans spend more on food than on almost any other line item in the household budget. According to the Bureau of Labor Statistics, households nationally spend on average nearly $8,000 per year on groceries and eating out. Trying to lower your family's grocery bill? Small changes can add up to some big results. Here are some simple ways to save:
Plan meals around what's on sale. Check out what's on sale each week and plan your meals around sale items. If you can, purchase extra shelf-stable or frozen items that can be used for future meals. Each week, major grocery chains feature a selection of items storewide that are sold at or below cost to bring in shoppers. If your favorite grocery stores have apps, download them and save more. Resist the temptation to purchase any sale items that you aren't sure you or your family will eat.
Have a meal plan. Does the idea of meal planning sound, well, not so fun? It's a proven money-saver, just like budgeting! Some people plan meals by month or week, but if you're not used to having a meal plan, you can start small and plan one or two days at a time. The idea is to know what you're having for dinner at least a day or two in advance so that you can have the ingredients on hand or have done some meal prep. Consider doubling recipes and freezing a second meal to use at a later date.
Shop with a list. Your list doesn't have to be on a piece of paper. You can use a smart phone app that makes it easy to keep track of what you need.
Don't shop while you're hungry. Yes, studies really do show that shopping while you are hungry can cause you to spend more, and on less-than-heathy food and items you don't really need.
Consider store brands. Many stores offer value-priced alternatives to the leading national brands that can help stretch your grocery budget.
Use coupons. Don't like clipping coupons? Don't get the Sunday newspaper? No problem. Use coupon-printing web sites such as Coupons.com and SmartSource.com to print coupons for items on your shopping list. Use websites that pair sale items at major grocery chains with coupons for added savings. Consider using rebate apps, such as Ibotta, that pay cash back on items you purchase at the grocery store and other retailers.
Buy only what you know you'll use. It's easy to throw items into your grocery cart, but it's estimated that 150,000 tons of food is thrown away in U.S. households each day.
Keep in mind that many small changes — at the grocery store and in other areas — can add up to help you take control of your financial life. My average 101 Financial student is able to pay off a 30-year mortgage in as little as 5 to 8 years! With the 101 Financial System, you will learn how to do the same thing for your family, saving you tens, or even hundreds of thousands of dollars of interest payments in the process. Get started today on a brighter future for you and your family. Call (503) 679-3490.