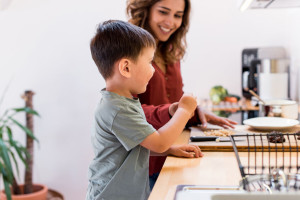 Are you serving or have you ever served in our nation's military? There's one awesome benefit you may not know about.
The Veterans Affairs Home Loan is a mortgage like no other, with features that can't be found in other types of financing options. There's no set downpayment requirement, for example, no private mortgage insurance and competitive rates that are often lower than with other types of loan programs. So why do so few active-duty military personnel and veterans take advantage of it?
Many people who are eligible simply don't know about it. Others who are familiar with VA mortgages don't think they will qualify. Some think they haven't served recently enough or for long enough to be eligible. Eligibility for a VA home loan is based on the length of time served, and the period in which the service took place. But the time required is less than you might think. And it doesn't matter when the service took place. For instance, an Army veteran with at least 90 days in service around the time of the Vietnam War is likely eligible. Surviving spouses of those who were killed while serving our country and who haven't remarried may be eligible as well.
Some veterans or active-duty military personnel may think that their credit score or income is not high enough. In reality, there isn't any set credit score or income guidelines with the VA program. The applicant's total financial situation is taken into account. And bankruptcy doesn't automatically make borrowers ineligible. Typically, there is a two-year waiting period from the discharge date from a Chapter 7 filing and a one-year waiting period after Chapter 13 filings to qualify for a VA-guaranteed loan.
Others don't realize that even if you don't have a VA home loan currently, you may be able to refinance into a VA mortgage, provided you are eligible for the program. You also may be able to use your VA benefit over and over, and once you've qualified for a VA mortgage, your benefit never expires. It's a lifetime benefit.
The VA loan program features a number of homebuyer protections, such as limits on closing costs. There's also no penalty for paying off our VA mortgage early.
Another facet of the VA program you should know about is that you may be able to purchase a condominium or townhome, if it's located in a VA-approved project. In fact, you can buy many types of residential properties with a VA home loan. Single-family homes are the most common, but homes with up to four units, condominiums, townhomes and manufactured homes that meet certain criteria may be eligible for purchase with a VA mortgage as well.